Palomba Serafini studio launches a new collaboration with Permare, an Italian shipyard founded in Sanremo in 1973, renowned for producing innovative, elegant, efficient, and sustainable products.
Ludovica Serafini and Roberto Palomba embark on a new collaborative venture with the F100 Glass Cabin project, the latest creation by Permare shipyard in Sanremo. The new F100 Glass Cabin model has an overall length of 29.60m while maintaining a hull length of less than 24m, allowing it to stay within the vessel range. It is developed on three spacious levels and powered by four Volvo Penta D13 IPS 1200 engines.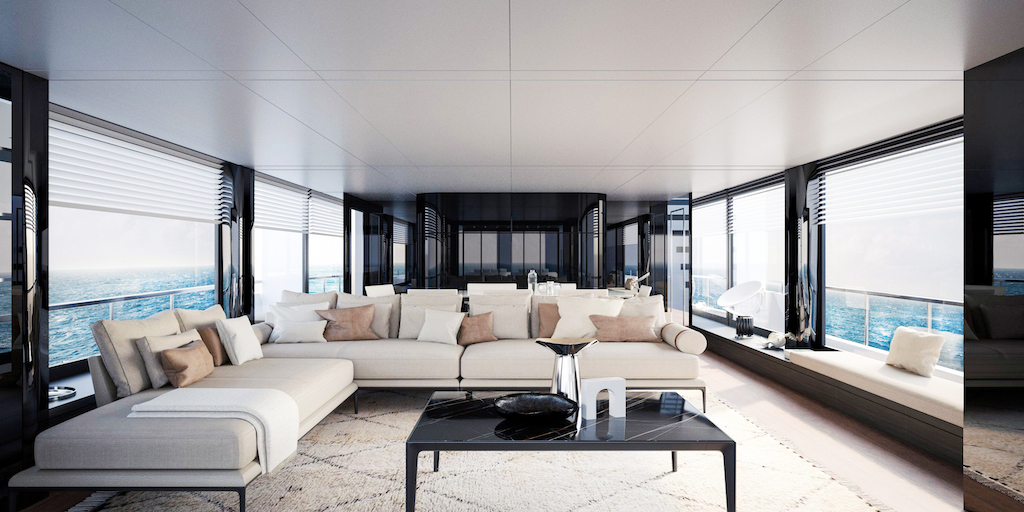 This is how Architects Ludovica Serafini and Roberto Palomba describe the new Amer Yacht F100 Glass Cabin, built by Permare shipyard and for which they have overseen the interior design:"Certainly, our perspective offers a fresh look, an architectural vision rooted in the world of architecture and interior design, translated into the realm of yacht design."Ludovica and Roberto Palomba embraced this project with the intention of endowing F100 Glass Cabin with a refined image, reflecting both the studio's signature style and the essence of Amer Yachts, with the intention of giving rise to a creation that expresses the fusion of engineering and harmony.
Several design choices align with this vision: F100 Glass Cabin features larger windows compared to other yachts of similar dimensions, creating a sensation of openness, natural light, and a continuous connection with the sea. The main deck, designed for indoor socializing, is characterized by a spacious living area that showcases the sophistication of the B&B collection.
Additionally, situated behind the wide glass of the dining area, the owner's cabin is the most spacious of all the rooms, with a large bathroom and walk-in wardrobe that features a color palette of soft tones.Moving up to the fly deck, the architects have conceived an intimate open-air lounge and dining area, furnished by Talenti. It is a sophisticated and comfortable environment that creates the impression of seamlessly extending the onboard ambiance to the beauty of the sea view.The lower deck has four guest cabins, designed and furnished in accordance with the color palette that characterizes the entire interior of the F100 Glass Cabin.