Al fresco dining with the versatile T-table collection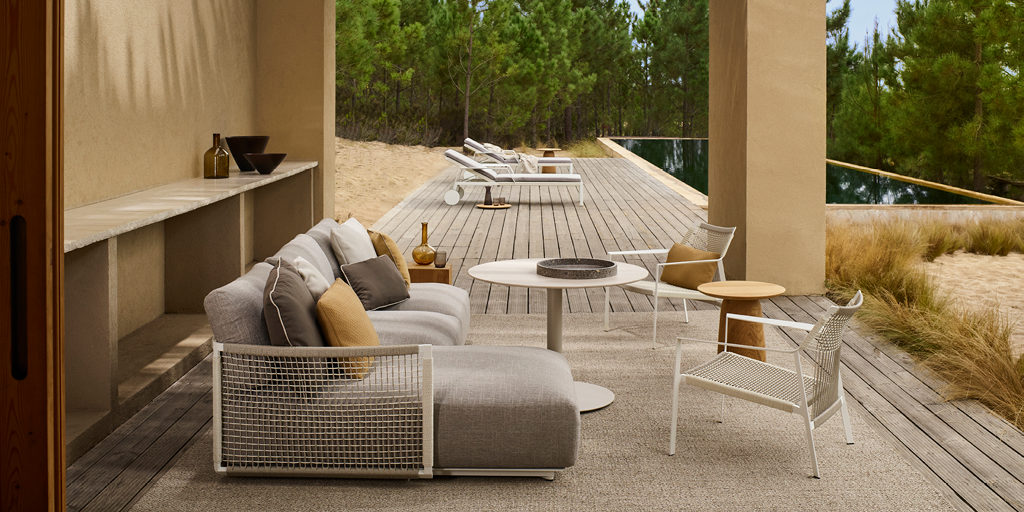 The T-table collection brings versatility to al fresco dining
Outside dining, or 'al fresco' dining as the Italians so beautifully say, has evolved a lot over the years, offering greater comfort and versatility.
Taking you beyond the classic rectangle, our extended T-table collection comes in shapes, sizes and finishes that make the most of peaceful breakfasts, informal lunches and casual dinners.
Oval tables, capturing the spirit of convivial dining
The oval T-table was created to make informal al fresco dining as welcoming and relaxed as possible.
The table's smoothly rounded corners mean there is always space for an extra guest and the centrally placed legs give everyone comfortable leg room. The oval comes with a warm, solid-teak top or a choice of five ceramic tops, natural hues that combine easily with your choice of seating.
Three new tones have been added to the Tribù palette. Sabbia is a soft shade inspired by limestone, Zinc is pebble-grey and harmonises beautifully with the wengé aluminium, and Scisto is a refined tone of brown with an occasional delicate natural vein.
The oval T-table comes in two dimensions – 240 x 98 cm and 300 x 98 cm – as well as a choice of two heights – 75 and 67 cm – allowing you to personalise your dining space. With its gentle curves and natural finish, the oval T-table is as welcoming as it is beautiful.
Low dining tables, dine and unwind
Dining and lounging are perfect partners, allowing you to unwind in an outdoor scene set for comfort, good food and good conversation. The T-table low dining table, which comes as a generous oval for larger groups, or square and round for smaller gatherings, takes you from dinner to a relaxed evening spent together.
There are nine nature-inspired colours and finishes to choose from with table tops in teak, ceramic and glazed lava stone, as well as three colours of aluminium frame. Whichever combination you choose, low dining tables harmonise perfectly with our collection of easy chairs.
For the warm touch of wood, Elio or Nomad easy chairs or Mood club/lounge chairs are ideal options. The Tosca and CTR club chairs offer the sleek look of powder-coated aluminium combined with a tactile weave, as do the Nodi and Regista easy chairs.
So take a seat and enjoy the scene.
T-table's refined charm for smaller spaces
The beauty of the T-table collection lies in its essential proportions: slimline table tops in refined natural materials combined with an elegant aluminium frame. The compact T-table distils those ingredients into a perfectly formed table to suit smaller outdoor spaces.
A roof terrace, a sunny corner or a seaside balcony with a view are just the places for a compact T-table, which comes in five different sizes: 70, 80 and 90 cm diameters and 80 x 80 cm or 90 x 90 cm.
But also for hospitality projects, this is an ideal choice. The use of subtle, easy-to-maintain finishes for the table tops, such as hand-finished glazed lava stone, elevates the simplicity of the design with discreet luxury, making the tables an ideal option for high-end contract projects.