Aimbridge brings international arm under same branding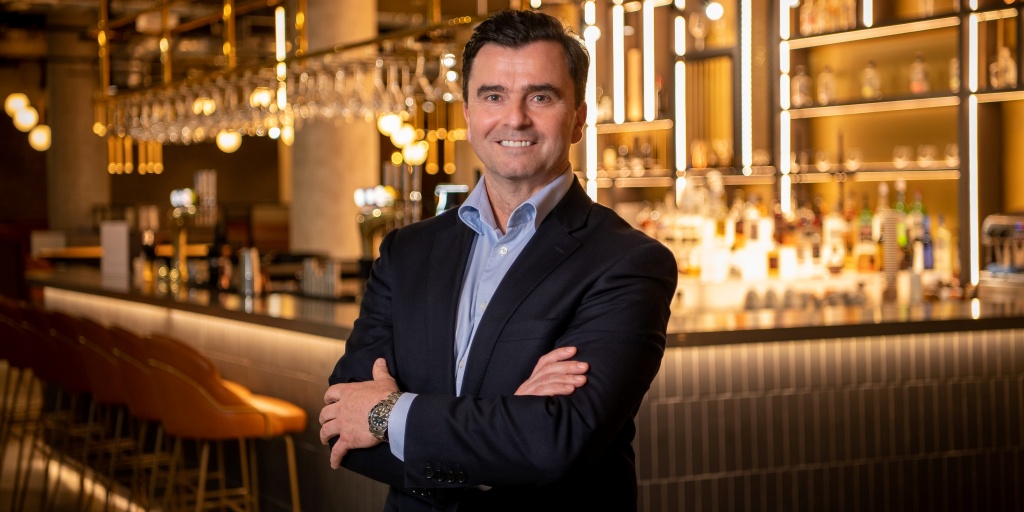 The international division of hotel management firm Aimbridge Hospitality, Interstate Hotels & Resorts, is rebranding as Aimbridge EMEA.
The new corporate identity is aimed at setting the foundations for the company's future growth beyond the UK and Europe.
Expanding portfolio
The existing Interstate Hotels & Resorts portfolio, which has operated as Aimbridge Hospitality's international division since 2019, comprises 114 properties across the UK and Europe and includes brands such as Marriott, Hilton, IHG and Accor, as well as independent hotels.
At least five high end UK projects are currently in the Interstate pipeline, including Hampton by Hilton East London, Hyatt Place Sovereign Square Leeds and Tribe Airport City Manchester.
New divisions
The portfolio will now form Aimbridge's EMEA division, headed up by David J. Anderson (pictured), who joined the company in November 2021.
The move follows Aimbridge Hospitality's creation of six new operational divisions earlier this year, focusing on vertical operations and geographic divisions to bolster international growth.
Added value
Anderson said: "We're thrilled to be launching our new corporate identity, from Interstate Hotels & Resorts to the global Aimbridge Hospitality.
"We know the Interstate name is well-known and much-loved in the UK and Europe, and the people-focused approach that has played such an important part in our growth will of course remain.
"However, the move asserts our division's presence in the UK, Europe and beyond. It sets a strong foundation for future growth and attracting the best talent, while giving our hotel owners added value, combining our in-market expertise and operations specialties across all hotel categories, with the scale of a global company that has multi-brand experience and influence."
He continued: "Under one identity we can take Interstate's position and experience as a leading third-party operating division in the UK, Ireland and Europe, and capitalise further on Aimbridge's strong industry and brand relationships.
"We can further optimise hotel performance and unlock more opportunities across EMEA, driving results with best-in-class proprietary technology that allows us to adapt to owners' distinct needs."
New way of working
Mark Tamis, president, global operations at Aimbridge Hospitality, said: "This is an exciting time for Aimbridge and our UK, Ireland, and European teams as we introduce the Aimbridge identity throughout EMEA.
"It signals the natural evolution of two of the leading third-party management companies in the world coming together and a move into a new way of working. The team is thinking differently, with a vertical focus that will benefit owners through reinforced and strengthened services, along with the curation of top talent, training and recruitment, best-in-class supplier agreements, and unparalleled partnerships with industry brands."
Aimbridge welcomed Tamis to his role in May 2022, continuing its commitment to investing in people and programs to deliver operational excellence. The Aimbridge Hospitality portfolio, inclusive of Interstate's managed and pipeline properties, now exceeds 1,500 hotels globally.
Michel will remain the owner and landlord of the sites while Achat operates them and will retain all hotel employees. Further cooperation The deal means that Achat is expanding its presence in new tourism and leisure destinations in Germany, including the Bavarian...
Field & Stream Lodge Co, inspired by the American retail brand Field & Stream established in 1871, will be a branded hospitality platform aiming to create modern lodging across the USA. Authentic brand Starwood and AJ Capital believe the new brand's origins...
The 10 boutique sites across the US will now be operated by Staypineapple Hotels Inc, with the portfolio opening the doors to third-party licensing and property management. Brand history Pineapple Hospitality began managing and operating privately-owned boutique...
Sonesta Essential is designed to offer franchisees easier new builds and conversions with modest brand standards, limited food and beverage requirements and simplified conversion processes. Brand pillars The brand pillars focus on offering guests a comfortable, clean...