Accor brings French luxury style to Shanghai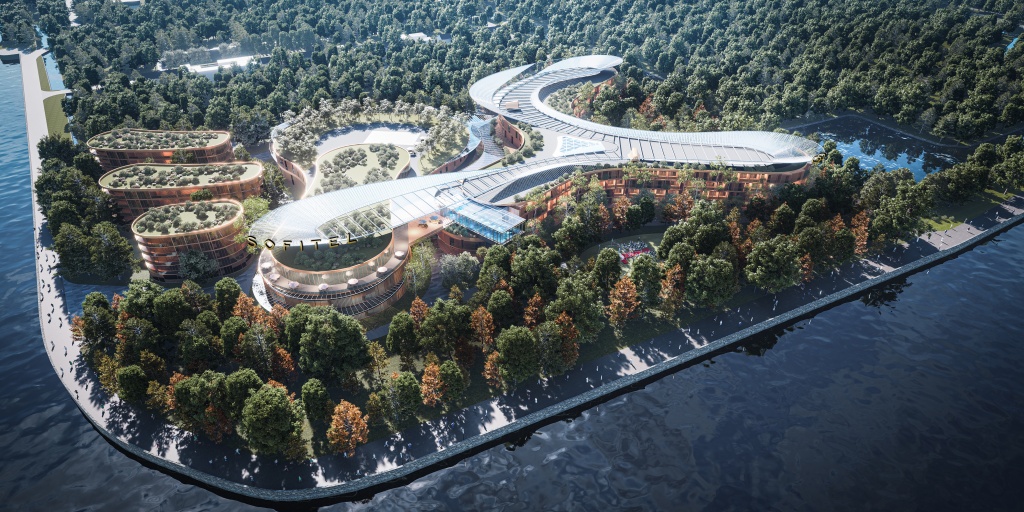 Accor's Sofitel Hotels & Resorts brand is expanding in Shanghai with the agreement of a 293-key luxury urban resort, set to open in 2025.
The hotel group is partnering with Shanghai Xinguang Technology Development Group on the development of Sofitel Shanghai South within the new Zhuanghang Town in the Fengxian District.
France meets China
The new luxury hotel will feature the brand's signature modern French style, blended with rich Shanghainese traditional culture, while employing an environmentally sensitive approach to development.
A low-rise property amid an expansive resort setting, the new Sofitel Shanghai South will reside among a commercial complex of 40,000 sq m. The 293 guestrooms will offer private balconies with views of Zhuanghang's conservation forest and the Huangpu river.
Locale integration
Two ballrooms of 1,500 sq m and 700 sq m are generously sized for events, celebrations or business occasions. The hotel will feature signature restaurants and bars, a lobby lounge, an executive lounge, fitness centre, spa and pool.
A rooftop urban farm concept will integrate the natural woodlands with the hotel's own produce garden, while featuring a rooftop bar, restaurant, and outdoor event space. River views will also be available from the hotel's sunlit atrium corridors, panoramic guestroom windows and infinity pool.
Deer design
The hotel's design theme is inspired by the sika deer in the surrounding conservation forest, and The Deer Call – taken from The Book of Songs, the first poetry collection in ancient China. The architectural vision of the hotel is designed by AND Studio, an international firm renowned for its ability to integrate natural ecology and cultural significance into its design plans.
Building construction of the hotel is following green building standards and certification – with an emphasis on energy efficiency, green materials, and technologically advanced systems.
Modern luxury
Gary Rosen, CEO, Accor Greater China, said: "We are honoured to partner with Shanghai Xinguang Technology Development Group to bring the modern French elegance of Sofitel to the brilliantly evolving landscape of the Fengxian District, particularly at our privileged address in Zhuanghang Town. From French gastronomy, to an emphasis on arts and culture, chic and sophisticated design, and well-being, Sofitel will bring a sense of modern luxury and savoir-faire to this up-and-coming neighbourhood that will beautifully complement the natural surroundings and relaxed atmosphere that attracts visitors from near and far."
Huang Shangwei, chairman, Shanghai Xinguang Technology Development Group, added: "With our long history of developing and managing hotels, we have undergone numerous studies and verifications of project site selections and future development prospects, and none have been as compelling or rare as our site for Sofitel Shanghai South in Zhuanghang Town. Our collaboration with Accor has opened up exciting new opportunities, combining our Shanghainese culture with Sofitel's inimitable French style. Sofitel Shanghai South will surely become a modern classic that shines by the Huangpu River."
Established presence
Sofitel has a well-established presence in Greater China with 22 hotels and resorts in key destinations including Beijing, Shanghai, Hangzhou, Guangzhou, Xian, Kunming, Guiyang, Sanya and Haikou.
The brand also recently signed the 300-room Sofitel Shanghai North Bund, with at least seven further Chinese projects underway, including the 200-key Sofitel Hotel Nantong Qidong, arriving in Q2 2026; Sofitel Zhangjiajie Niban, a 400-room site heading to Hunan state in Q1 2024; and Sofitel Xian Nanfeihong adding 280 rooms to the portfolio in Q2 2023.
Anticipated to open its doors to guests in mid-2024, Peppers Gladstone promises a high level of luxury and comfort that is aimed at redefining the hospitality landscape in central Queensland. Merged milestone The hotel marks a significant milestone for Accor as it...
Formerly referred to as Mantra Tullamarine, the hotel has recently been renamed Mantra Melbourne Airport to provide greater clarity and make it easier for guests to identify the hotel's convenient location at the airport. Dining and room refresh The Pacific-focused...
Currently known as Crowne Plaza La Concha Hotel, the property will join the major group's Autograph Collection upon completion of a US$35 million property improvement plan in 2024. Luxury lift Under a new name of Autograph La Concha, the updated hotel will feature a...
The new sustainable beachfront lodge in Paje on the Tanzanian island of Zanzibar will encompass 25 low-impact villas, some with private pools, all located between palm vegetation and the shores of a pristine beach. Barefoot luxury Offering an immersive barefoot luxury...