A "KniTec Knows" Breakdown of LG's 'Alexa for Hospitality'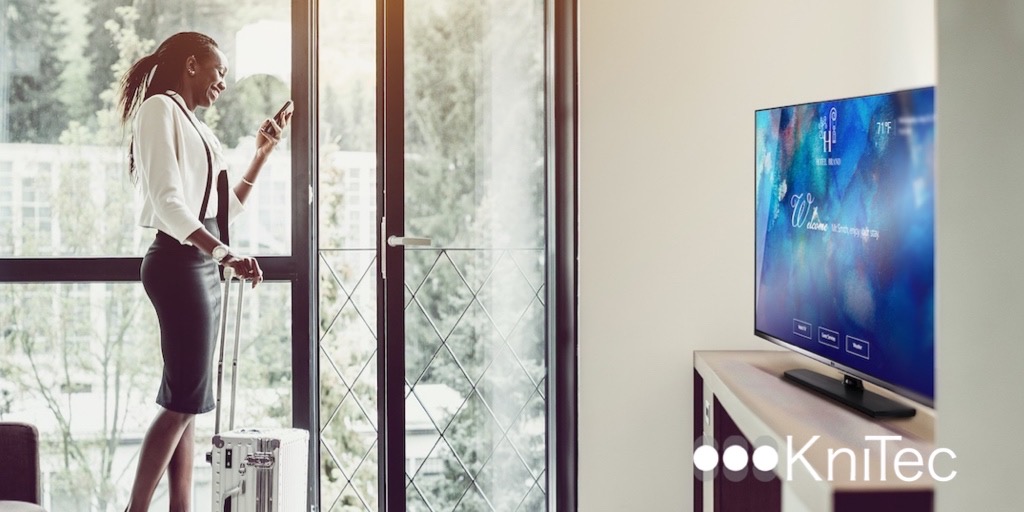 KniTec hits the high points of how Amazon's Alexa AI will improve the guest and staff experience for hotels featuring LG hospitality TVs.
Amazon's popular Alexa AI will now integrate with LG hotel TVs using the powerful webOS™ smart TV platform.
What new features does this unlock?
Hotel operators can now offer a natural language interface.
This new integration will allow guests to:
Navigate TV and music 
Order room service
View a customized weather report
Control in-room devices for smart lighting, motorized window shades, and climate control
And will allow staff to develop custom announcements that use on-screen and audio communication for events, check-out reminders, and more.
How does it work?
The microphone array accessory is powered through a TV's USB port and mounts to the top of the set. Unlike other voice-controlled solutions such as push-to-talk remote controls, LG's far field microphone array is ready to respond to requests once it is activated by guests upon arrival using the Alexa wake word. A mute button offers a convenient way to turn off voice control for those who prefer to use a standard remote.
What does this mean for properties with existing LG Hospitality TVs?
Hoteliers will be able to upgrade new and existing LG hotel TVs running webOS 6.0 or 5.0 to offer guests access to a custom Alexa solution through LG's far field microphone array accessory. The far field microphone array solution is also compatible with LG TV networks using Pro:Centric™ Direct software, through which the TV becomes a hub for control for compatible wireless smart devices, without requiring a standalone control system.
Where can I learn more?
For pricing and to learn more about Alexa's integration with LG Hospitality TVs, call the hospitality technology experts at KniTec (866) 469-7111. 
To receive more hospitality technology breakdowns like this, subscribe to KniTec's email list or follow them on social media.
Information in this article is from LG's Press Release, which can be viewed in its entirety here.