WMF SmartRemote self-service at its very best – contactless, hygienic and safe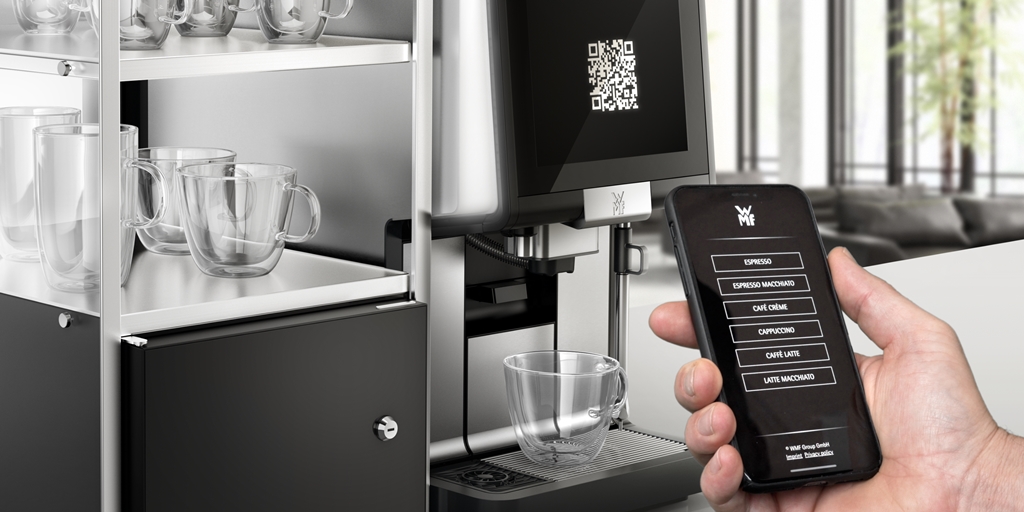 The web-based app "WMF SmartRemote" is an innovative tool for ordering and preparing beverages completely contactlessly in the self-service segment.
Created by the WMF Group, the coffee machine manufacturer from Geislingen, the app is easy and intuitive to use: scan the QR code with a mobile device, select a coffee speciality, take the beverage when it is ready, then relax and enjoy. Designed as a web-based application, the WMF SmartRemote solution is compatible with any mobile operating system (iOS, Android, Windows or Linux). There is no need to download and install a specific app. The only technology users need is a mobile device camera and a connected Internet browser. The solution is now available for all connected fully automatic coffee machines in self-service operation. Registered WMF CoffeeConnect users benefit from the continuous and ongoing development of the coffee machine software and therefore also from the activation of effective IT-based features like the new WMF SmartRemote solution.
Due to the current pandemic, restaurateurs in every sector are having to adopt new approaches to ensure that their coffee machines can operate both hygienically and cost-effectively. With its new WMF SmartRemote solution, the premium manufacturer is now offering an innovative method for contactless ordering and preparation of coffee specialities. This is how it works: customers use a smartphone or tablet to scan the QR code on the machine display. At this point, the WMF SmartRemote solution opens automatically on the customer's mobile device. The secure, multi-browser-compatible HTML5-based web application lists all available coffee specialities in an intuitive display. Having chosen a beverage, the customer places the appropriate cup (or their own cup) underneath the machine spout and selects the product by tapping it on their mobile device. Once the relevant data has been successfully transferred to the coffee machine via WebSocket, the web app closes automatically and the machine dispenses the required beverage. After the order has been completed, the QR code is automatically regenerated so that the next customer can place a contactless order. The machine can of course also continue to be operated in the usual way via the machine display. Simply touch the screen and the QR code will disappear. "Our new WMF SmartRemote solution is enabling restaurateurs, hoteliers and shop owners to continue to deliver their self-service concepts in a way that is hygienic, clean and safe. With relatively little investment, coffee businesses can get back to what they do best. This solution is a positive and compliant tool which demonstrates our commitment to the safety of our customers and their guests," says Eva Gold, Senior Manager Global Brand & Communications at GBU Professional Coffee Machines in the WMF Group. The result: coffee indulgence without restrictions.