The Ambassador Seoul reopens after full renovation
One of South Korea's finest hotels has emerged from an 18-month revamp with a fresh new look that celebrates both its own heritage and the vibrant energy of the Pullman brand.
Accor's Pullman brand has announced the relaunch of a real stalwart of Seoul's hotel scene.
Leading the local hospitality scene
Now sporting a new name, The Ambassador Seoul – A Pullman Hotel, this property has emerged refreshed and revitalised following the completion of a comprehensive 18-month renovation programme.
Garth Simmons, CEO of Accor Southeast Asia, Japan and South Korea, said: "We are delighted to reopen The Ambassador Seoul – A Pullman Hotel and welcome our guests back with an inspiring and energising atmosphere perfect for a metropolitan destination such as Seoul. The refurbished hotel promises to deliver an upbeat experience and a hyperconnected space in the centre of vibrant Seoul, where history and modern culture intertwine.
"The Ambassador Hotel Group has been our honourable partner for 35 years, and we are delighted to bring this property to life once again. With our local expertise and knowhow, this heritage hotel will undoubtedly further enrich the city's hospitality landscape."
Jung-ho Suh, chairman of Ambassador Hotel Group, added: "Since we first opened the hotel under the name of Geumsujang in 1955, we have provided sincere service to local and international guests with utmost care and dedication. The newly renovated Ambassador Seoul – A Pullman Hotel showcases a remarkable interior design.
"As a smart and eco-friendly property, its vision is to be a destination where guests can experience the true essence of the location. We are pleased to reopen the hotel in partnership with Accor and we are confident our hotel partner's expertise in global distribution systems and delivering a reliable and welcoming service will help strengthen the guests' satisfaction and engagement."
Bringing new energy to the property
From its position in the heart of Seoul, the hotel commands views over the city and landmark Namsan N Tower, and provides easy access to central business districts as well as Gangnam.
The new-look hotel, which reflects the inspiration that the designers took from Namsan Mountain's four seasons, is home to signature Pullman brand experiences like the Club Ambassador Lounge and a new fourth-floor outdoor swimming pool.
The refurbished property hosts guests in six restaurants and bars including The King, which opened in 1975 as South Korea's first hotel buffet, serving authentic Korean, Asian and European brasserie-style dishes; the first-floor Lounge & Bar, offering afternoon tea and signature cocktails; and Hao Bin, for authentic Cantonese cuisine. Meanwhile, 1955 Groceria brings a gourmet grocery dining concept to the hotel, and The Pool House Terrace provides a semi-rooftop space for brunch and light snacks.
The event space here notably includes the 19th-floor Namsan Room, featuring a dome-shaped glass window and a connecting room. There's also The Grand Ballroom, The Board Room and Legacy Room for event organisers to choose from.
On top of all this, wellness facilities now encompass an indoor pool, an indoor golf driving range, sauna facilities, and a fitness, yoga and Pilates studio. Guests can make use of personalised training programmes, moreover, and keep their children entertained in the Kids Room.
Imagery courtesy of Radisson Hotel Group. A second Riyadh hotel for the Radisson Collection is amplifying the luxury chain's presence in Saudi Arabia. Mansard Riyadh, A Radisson Collection Hotel is named after its distinct Mansard roofline, designed as an homage to...
Pictured: Element Riyadh. The capital of Saudi Arabia is set to welcome 48 hotel projects, which between them will bring as many as 9,838 new rooms to the city. A number of luxury brands are making their mark in the city at this time, with a total of 28 five-star...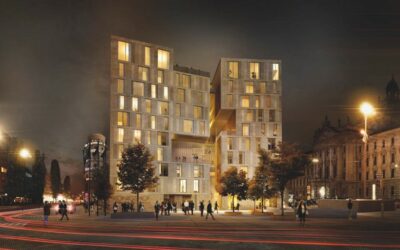 Imagery © Nieto Sobejano. Our latest Project of the Week title goes to the new-build JW Marriott Königshof taking shape in Munich. Highlights of this 10-storey site are to include a wellness floor and a rooftop restaurant affording panoramic views over Munich. A new...
Imagery courtesy of Accor. Accor has opened its first The Sebel-branded property on the Gold Coast, Australia, after an $11 million upgrade of an existing site. Sebel Twin Towns Coolangatta debuted following an extensive transformation and rebrand of the ocean tower...