Kimpton reveals plans for Denver Tech Center's first boutique hotel
Showcasing the work of KGD Architecture and Kara Mann, Kimpton Hotels & Restaurants' 190-key newbuild scheme will launch in the Mile High City in early 2024.
IHG's luxury lifestyle brand is preparing to make its mark in the vibrant Denver Tech Center neighbourhood.
A prime location in the Mile High City
Kimpton Hotels & Restaurants has signalled its intention to open an exciting new project, Kimpton Denver Tech Center, in early 2024. This hotel – the flag's third scheme in the Mile High City – promises to enhance the Belleview Station development and surrounding businesses.
The newbuild property, owned by DTC Hospitality Investors, is being developed by Cypress 16 in partnership with McClurg Century Investments. KGD Architecture will lead the hotel's architectural design and Kara Mann will design its interiors, with Harvey Cleary Builders attached as the general contractor.
"The US mountain region has always been an appealing market for us," said Mike DeFrino, CEO of Kimpton Hotels & Restaurants. "The success of properties such as the Hotel Born in Denver's Union Station and the Armory Hotel in Bozeman, Montana confirm that our adventurous spirit and work-hard, play-hard mentality have found a likeminded home here.
"We're thrilled to be expanding in Colorado and look forward to working alongside our partners at DTC Hospitality to bring their vision to life and infuse our heartfelt care and passion for highly personalised experiences into the new Kimpton Denver Tech Center."
Delivering Kimpton services and amenities
The pet-friendly hotel will accommodate travellers across 190 rooms, including 14 suites, and plans to incorporate signature Kimpton amenities and services such as morning tea and coffee, evening social hours and the 'Forgot It? We've Got It!' programme into its offering.
As well as providing guests with in-room yoga mats, Kimpton Denver Tech Center will have an onsite fitness centre and provide complimentary bicycles. Both business and celebratory events, meanwhile, will be held in the property's 7,000 sq ft of meeting and event space.
A real highlight promises to be the hotel's ground-floor restaurant and bar, as well as its 19th-floor indoor-outdoor rooftop bar and lounge boasting views over the majestic Rocky Mountains.
Denver Tech Center has become known as a gateway to the city's south-east business corridor, as well as a hub in its own right for the region's high-tech industries. From here, guests will have easy access to Denver International Airport and downtown Denver via the Southeast Light Rail.
"We are thrilled to become part of Belleview Station and partner with Kimpton to bring a vibrant full-service boutique hotel to DTC," said Gary Roffe, managing partner, DTC Hospitality. "Our distinctive restaurant and rooftop venue will add new experiences to an area rich in community and the place we call home."
When it opens, Kimpton Denver Tech Center will join Kimpton Hotel Monaco in the downtown area and Kimpton Hotel Born in Union Station in the Greater Denver market.
This week's collaboration with TOPHOTELDESIGN showcases the top five hotel developments utilising materials in the most creative and inspirational ways. This week we're taking a look into projects where designers successfully expressed materials' maximum capabilities,...
Imagery courtesy of IHG. The launch of voco Brisbane City Centre signifies the brand's entry to the riverside city and second opening in Queensland. This is the first hotel opening for Vista Hospitality Group, which was recently formed as a joint venture between...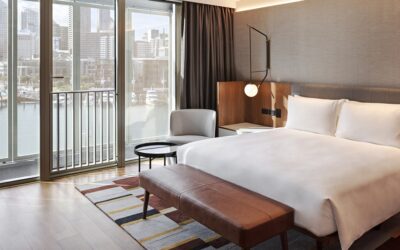 Imagery © Vidhya Raithatha. This week's TOPHOTELDESIGN focus looks at the 2020-opened Park Hyatt Auckland in New Zealand. Bossley Architects and ar+d designed the architecture of this property and Conran and Partners was responsible for the interior design. A sense of...
Imagery courtesy of Accor. Porter House Hotel Sydney - MGallery is on track to open in one of Sydney's most recognisable buildings this July. This $94 million boutique hotel takes up the first 10 floors of a 36-storey mixed-use tower within the $184 million Porter...