TPG to manage Kimpton scheme next to world's busiest airport
Hospitality management company TPG Hotels, Resorts & Marinas has been selected to operate Kimpton Overland Airport Hotel, a 214-room full-service property in Atlanta.
This management agreement marks the start of a new chapter for the hotel.
TPG wins the race for Kimpton Overland Airport Hotel
The contemporary 214-key Kimpton Overland Airport Hotel in Atlanta, Georgia is to be operated by TPG Hotels, Resorts & Marinas. Kimpton Hotels & Restaurants' sleek scheme lies adjacent to the world's busiest airport, Hartsfield-Jackson Atlanta International Airport, and right by the North American headquarters of Porsche.
This distinctive property was developed in partnership with Porsche's Atlanta corporate campus and Driver Experience Center. As a result, it showcases the same style as the sports car specialist's headquarters.
Greg Wilson, CEO of Acron (USA), said: "After an extensive search and interview process, an operator candidate stood out among the final group of premier hospitality operators Acron considered.
"We are pleased to have TPG Hotels, Resorts & Marinas as our new management company for the Kimpton Overland. We look forward to the direction and resulting success we are confident will take place as a result of our mutual collaboration."
A successful switch to Kimpton
Kimpton Overland Airport Hotel is home to 214 rooms and suites, a full-service restaurant, 7,000 sq ft of meeting space and the eighth-floor Rooftop at the Overland, which overlooks Porsche's 1.6-mile Driver Development Track as well as the airport's runways. Having originally opened in 2017, the property converted to Kimpton in 2019 after undergoing a US$1.25 million renovation programme.
"The Kimpton Overland Airport Hotel is an exceptional asset with built-in demand drivers including excellent proximity to the world's busiest airport," said Robert Leven, chief investment officer of TPG Hotels, Resorts, and Marinas.
"We see tremendous revenue growth opportunity for this asset as business and leisure travel begin to stabilise. The addition of this property to our third-party managed assets is part of our strategy to seek additional growth opportunities throughout the United States."
Pictured: Element Riyadh. The capital of Saudi Arabia is set to welcome 48 hotel projects, which between them will bring as many as 9,838 new rooms to the city. A number of luxury brands are making their mark in the city at this time, with a total of 28 five-star...
Imagery courtesy of Choice Hotels. Choice Hotels International is to acquire Radisson Hotel Group Americas, bringing nine brands, 624 hotels and over 68,000 rooms under its umbrella. The $675 million deal marks the latest step in Choice's strategy of growing its...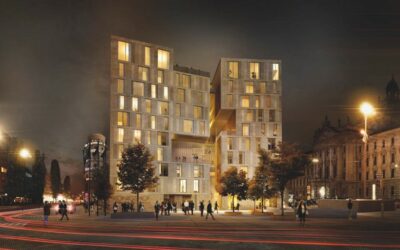 Imagery © Nieto Sobejano. Our latest Project of the Week title goes to the new-build JW Marriott Königshof taking shape in Munich. Highlights of this 10-storey site are to include a wellness floor and a rooftop restaurant affording panoramic views over Munich. A new...
Imagery courtesy of Accor. Accor has opened its first The Sebel-branded property on the Gold Coast, Australia, after an $11 million upgrade of an existing site. Sebel Twin Towns Coolangatta debuted following an extensive transformation and rebrand of the ocean tower...