Rosewood lands conversion in Milan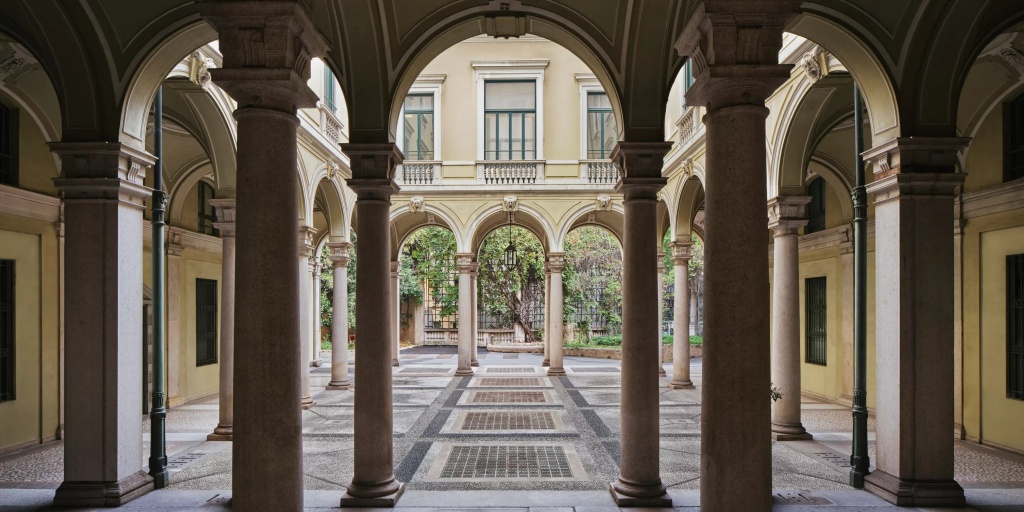 Rosewood Hotels & Resorts has signed an agreement with real estate firm Gruppo Statuto to manage a new site for the brand in Milan, Italy.
Rosewood Milan, which will open in 2025 in the heart of the city, marks Rosewood's fourth hotel in Italy, following the recent announcements of Rosewood Rome and Rosewood Hotel Bauer in Venice.
These three projects will join the group's Italian estate resort, Rosewood Castiglion del Bosco in Tuscany, and demonstrate Rosewood's strategic growth trajectory across Europe and within Italy particularly.  
Historic conversion
Rosewood Milan will be situated on the edge of the Quadrilatero della Moda, the city's fashion district, and feature 70 rooms, including approximately 20 suites.
The project will convert the historic and iconic Palazzo Branca and Palazzo della Banca Commerciale built in the 19th century and formerly home to the Italian Commercial Bank.
Contemporary design
The property will evoke the grandeur of historic Milan juxtaposed with a contemporary design. Influences from the city's role as a hub of global fashion will be evident throughout the property's offerings.
Parisian firm Studio KO will oversee the interiors, melding classical details with modern touches while respecting the historic building's cultural heritage. Rosewood Milan will be home to a bar and restaurant with a courtyard and garden. The property will also house the Asaya wellness facility with three treatment rooms, an indoor pool and fitness centre.
Ticking location boxes
Sonia Cheng, chief executive officer at Rosewood Hotel Group, said: "This development comes with great excitement as we continue our growth in Europe and Italy specifically. Rosewood continues to expand to destinations where we know our 'affluential explorer' guests want to travel. With all its culture and vitality, Milan ticks all the boxes for a Rosewood urban location and it will round out our portfolio of global fashion capitals where Rosewood has a presence, including our iconic properties in New York, Paris and London."
Giuseppe Statuto, chairman of Gruppo Statuto, added: "We are thrilled to partner with a brand such as Rosewood to bring these historic buildings back to life. By merging our shared experiences and philosophies, we know this hotel will become an immediate icon of high hospitality in Milan — a trend-setting city that increasingly stands out in the world as an unmissable destination for international travellers and locals alike."
Strong pipeline
Rosewood Milan is the latest hotel announcement for the Rosewood Hotels & Resorts brand, adding to a strong pipeline of projects set to open in Europe in the coming years.
Projects underway include the 132-key Rosewood Munich in Germany, completing in Q1 2023; Rosewood Schloss Fuschl Hotel, bringing 98 keys to Salzburg in Q4 2023; Rosewood Amsterdam adding 134 rooms to the Dutch capital in Q1 2023; and the 139-room The Chancery Rosewood  arriving in London, UK, in Q4 2024.
With this deal, the independent real estate private equity platform dedicated to hospitality in sub-Saharan Africa will help Fairmont to expand its footprint in the region. Transition timeline Cape Grace Hotel will transition into Cape Grace by Fairmont by the end of...
Under the Ruby Hotels brand, the site will have approximately 165 rooms and a 24/7 bar with café and a rooftop terrace. Listed building ECE group company ECE Work & Live will be the project developer and investor, transforming this listed property from the early...
Mercure Bucharest Cantemir will open in autumn this year following the conclusion of a franchise agreement with local company Sab Serv Expres.  City centre refurb The 40-key hotel will operate in a fully refurbished building on Dimitrie Cantemir Boulevard, close to...
This signing is representative of IHG's ongoing support for the Saudi Vision 2030, which includes the endeavour to bring new hospitality experiences to developments across the Kingdom. Growth across Saudi Arabia The new Hotel Indigo Mohammed Bin Salman Nonprofit City...
ABOUT THE CHAIN
Founded in 1979 in Dallas, Texas, Rosewood manages one-of-a-kind luxury properties in the world's most desired destinations.
Error, group does not exist! Check your syntax! (ID: 3)