Karin Krautgartner's evolution from industrial designer to entrepreneur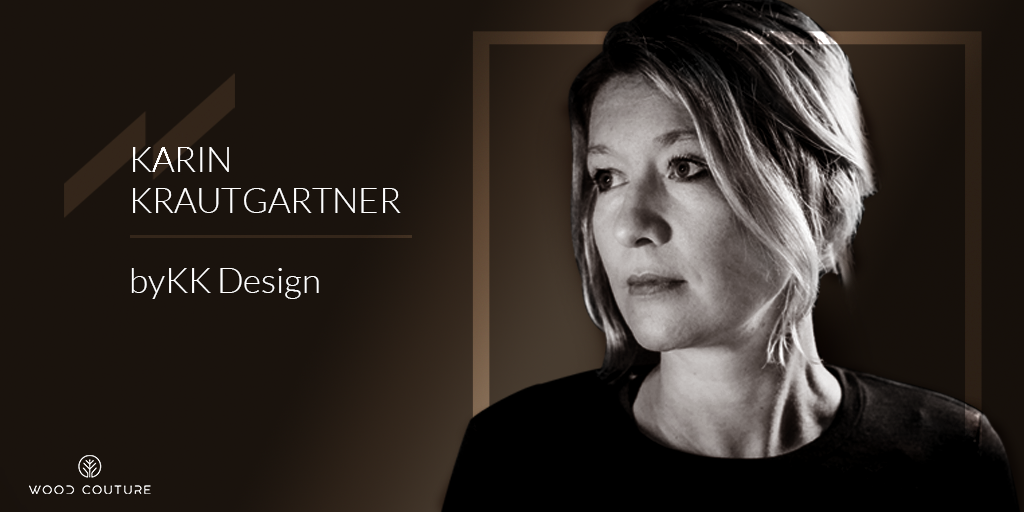 The Wood Couture Podcast interviews Karin Krautgartner, who talks about her journey from being part of the iconic Marcel Wanders Studio to founding byKK Design, as well as some hot topics along the way.
A creator from the beginning
Austrian interior designer Karin Krautgartner describes herself as a creative as far back as she can remember. As a child, she could often be found at her blacksmith father's workshop. Karin grew up putting things together, experimenting and working with her hands, which her father lovingly encouraged.
Having always been surrounded by metals, she and her brother had even ventured into selling clocks they had crafted by welding metal scraps together. It was perhaps the workshop that led her to get into engineering when the time came for university. Early on, however, Karin found that the field did not completely interest her and discovered industrial design as a more suitable path.
Helping build Marcel Wanders Studio
While exploring internship opportunities on a student-exchange programme, Karin landed at Marcel Wanders Studio in Amsterdam. She eventually became its second employee hire! Her technical skills proved valuable to the small studio at the time, where she worked very closely with Marcel Wanders.
Twenty years later, the studio is not so small anymore and in fact has become iconic in the interior design space. Karin had by then established herself as a designer and grew with the company. She held the role of creative director for several years.
In the interview, Karin reminisced about the years that flew by with every new experience and challenge. She shares how Amsterdam became home to her, while the people at her workplace evolved into a family.
The big leap
Possibly one of the most difficult career decisions is leaving a job when there is nothing wrong with it. Such was Karin's experience upon deciding to leave the nest at Marcel Wanders Studio to pursue a different challenge – being her own boss.
In early 2021, Karin set up byKK Design, which is geared towards lifestyle hospitality design. She beams about her ambitions of "designing the Mondrians of the world".
Karin believes in maintaining a lean model for her boutique studio to facilitate her vision for byKK. Often, dreams come true come with discomfort; with Karin, it's opening herself to the business side of things and switching between her business-owner brain and creative brain, not an easy feat. And so, for days when it's too much, Karin literally jumps into an ice-cold bath!
Over the rest of The Wood Couture Podcast episode, Filippo Sona extracts Karin's views on hot industry topics such as sustainability, value engineering, gender equality and others. Watch the full episode on YouTube or listen to it on any podcast platform.