Hilton lands in the City of Everlasting Spring
Showcasing the work of 361°Arquitectos, the first Hilton Worldwide-branded hotel in the Peruvian city of Trujillo is up and running after converting to the DoubleTree by Hilton brand.
DoubleTree by Hilton Trujillo has started welcoming guests to one of Peru's largest cities.
Hilton enters Trujillo
Hilton Worldwide has made its long-awaited debut in the Peruvian city of Trujillo, also known as the City of Everlasting Spring. The Virginia-headquartered hospitality giant's eighth property in the country benefits from its location in the exclusive El Golf neighbourhood, within convenient reach of major archeological attractions like Huaca Sol y Luna and Chan Chan, the largest city in the pre-Columbian era in South America.
The hotel will be operated by Inmobiliaria Maria Isabel Sac.
"As one of the largest metropolitan areas in Peru, we saw an opportunity to partner with a recognisable name to cater to the growing international market that is travelling to Trujillo for business and leisure," said Desirée Gabuteau, owner of Inmobiliaria Maria Isabel Sac. "We are excited to partner with this iconic hospitality brand to bring a fresh, new lodging option to the city of Trujillo."
An ambitious revamp
DoubleTree by Hilton Trujillo occupies the former Casa Andina Premium Trujillo hotel – its guestrooms, restaurant and common areas have all been updated as part of the conversion process. The new-look scheme, which weaves in references to local culture throughout, features architecture and design by 361°Arquitectos.
The hotel boasts 147 rooms in total, of which 20 are suites, offering spectacular views out over the city or Atlantic Ocean.
Meanwhile, its onsite restaurant Azafran features an outdoor terrace, and a separate pool bar serves up light bites and snacks. There are also eight meeting rooms and almost 800 sq ft of flexible event space.
Imagery courtesy of Radisson Hotel Group. Radisson Hotel Group has introduced its second brand to Tunisia with the launch of Radisson Hotel Sfax. This opening in the historic city of Sfax is a part of Radisson Hotel Group's 2022 growth and development plans for the...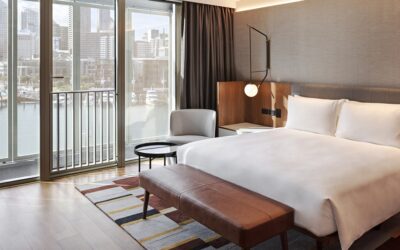 Imagery © Vidhya Raithatha. This week's TOPHOTELDESIGN focus looks at the 2020-opened Park Hyatt Auckland in New Zealand. Bossley Architects and ar+d designed the architecture of this property and Conran and Partners was responsible for the interior design. A sense of...
Imagery courtesy of Accor. Porter House Hotel Sydney - MGallery is on track to open in one of Sydney's most recognisable buildings this July. This $94 million boutique hotel takes up the first 10 floors of a 36-storey mixed-use tower within the $184 million Porter...
This week's collaboration with TOPHOTELDESIGN centres on five hotels which take inspiration from their secluded locations. We examine projects encompassing themes such as nautical charm and desert lodges which perfectly blend with the remote nature of their...