Ennismore eyes 'new chapter' as Accor joint venture completes
Sharan Pasricha, founder of Ennismore, has hailed a "very exciting day" for the lifestyle hospitality company following the closing of a much-anticipated joint venture with Accor.
A new lifestyle powerhouse has been created encompassing a raft of high-profile brands, including The Hoxton, Delano, Mondrian, Mama Shelter and 25hours.
Accor and Ennismore join forces
Accor and Ennismore have announced that a proposed deal to create a landmark joint venture, which was first mooted in late 2020, has successfully completed. Under the terms of the all-share merger, the French hotel group has acquired a 66.7% majority stake in a new autonomous entity, with Ennismore founder Sharan Pasricha taking a 33.3% holding.
This transaction combines Ennismore's expertise in building brands with purpose through design, creative storytelling and authentic experiences with Accor's strengths in scale, distribution and network growth. The new entity will retain the Ennismore name.
At the same time, Accor has deconsolidated formerly leased assets into a structure created with a fund managed by Keys REIM, which holds a 51% stake. Accor and Ennismore affiliates each have a 24.5% interest.
Led by Sharan Pasricha and Gaurav Bhushan
The joint venture will be led by Pasricha and Accor's Gaurav Bhushan, who will serve as co-CEOs.
Pasricha said: "It's a very exciting day and the start of a new chapter for Ennismore as we become the largest and fastest growing lifestyle hospitality company. I couldn't be more excited to bring together our unrivalled portfolio of brands in this new entity, and share the reins with my longtime friend and now co-CEO, Gaurav."
Bhushan added: "This joint venture has been months in the making and I couldn't be happier to join Ennismore as co-CEO, alongside Sharan. Our teams are ready and eager to build on each of our unique lifestyle brands, with a dynamic global pipeline, creating an ecosystem of memorable and curated experiences across all our properties."
An impressive brand portfolio
The joint venture's footprint spans 87 operating properties – with a further 141 in the pipeline – alongside more than 150 restaurants and nightlife destinations. Its brand portfolio includes 21c, 25hours, Delano, Gleneagles, Hyde, Jo&Joe, Mama Shelter, Mondrian, Morgans Originals, SLS, SO/, The Hoxton, Tribe and Working From_.
Among other capabilities, Ennismore boasts an in-house creative studio, an integrated restaurant and bars concept platform, and a digital product and technology innovation lab. The lifestyle hospitality company was founded by Pasricha in 2011.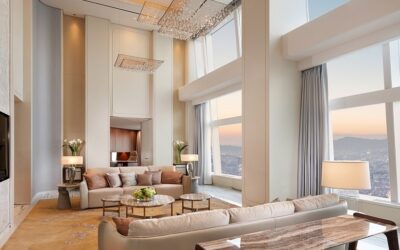 Lotte Hotels & Resorts' premier brand hotel, Signiel Seoul, was selected on its list of 'The Best Hotels in the World' for the first time among domestic hotels in an award hosted by global travel magazine Condé Nast Traveler on October 3 (local time). Condé Nast...